Per our last newsletter, we expressed Fall fishing should be on your radar. Well folks, the season is here! The fish are biting and the guests are happy.
Autumn is the lost season for countless anglers who trade their time on the water for hunting, football and indoor activities from September through December.
Too bad! They are missing out on what could be their most cherished season — if only they would give it a chance!
Here are some numbers of this week's action:
Beer Group: Fishing four days; aboard Chechos – raised 46 Sailfish, had 43 bites, and released 35.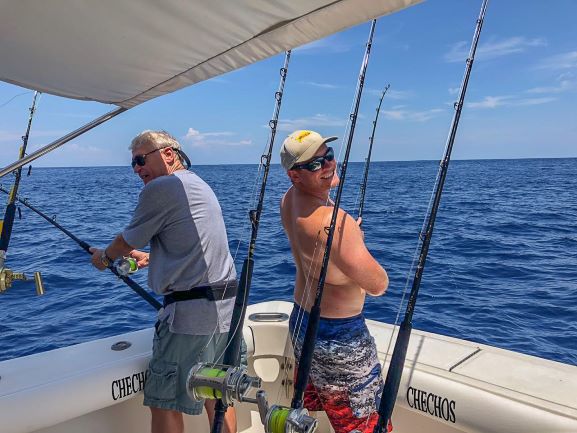 Another highlight for the group was the blue marlin wanted to play. They released 3 out of 4 bites with the man in the blue suit.
And for lunch and dinner; 5 Dorado.
Menedez Group: Fishing 1 day; aboard Chechos – raised 5 Sailfish and had 4 bites. Went 1 for 1 on blue marlin and 6 Dorado.
Evans Group: Fishing half day; aboard Maverick, 2 for 3 on Sails, 1 for 1 on blue marlin (est. 300 lbs) and 1 Dorado.
If you are planning to join us this Fall or 2020 season, I would highly recommend to contact us soon. Our phones are ringing and our calendar is filling up.
We look forward to your visit! Give us a call at 888-431-5556 or email us at [email protected]